We love it when folks have an awesome sailing trip with us. Here are a few of the nice things that guests have said about us.
Also check out TripAdvisor, Google, and Facebook for more of our current reviews.
---
---
---
---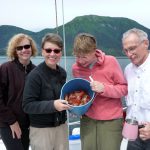 ---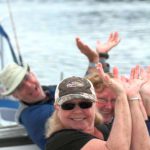 ---
---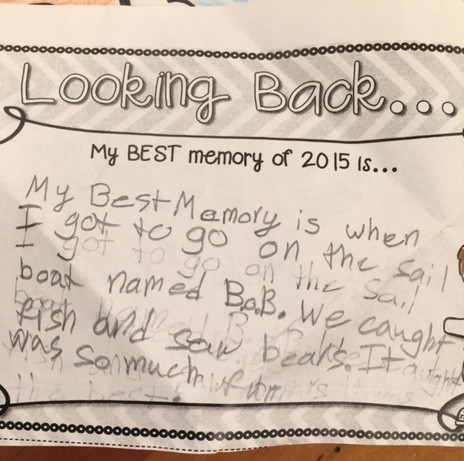 – Avan (age 8) 2015
---
We spent two days and two nights aboard the S/V BOB in and around Sitka Sound. The trip exceeded all of our expectations! We saw beautiful ocean and mountain scenery, observed abundant wildlife from the BOB and via sea kayak, learned to tack, jibe, and heave to, ate like kings, combed the beaches, and chilled in hot springs. In addition to being excellent sailors, hosts, cooks, and guides, Blain and Monique are  quite fun to get to know. (Beware of Blain's card-playing skills and Monique's cake-making abilities.) We highly recommend Sound Sailing for couples, families, and anyone who wants to see a beautiful slice of AK and experience life on the water.
– Dan N. 2015
---
It was a wonderful trip: our hosts Blain and Monique Anderson arranged fabulous weather, fresh-caught seafood, delicious meals and amazing sights – not just the grandeur of Alaskan landscape, but up-close views of whales, bears, and lots of cool plants (including those on a delightful bog hike). And then there was the 4th of July celebration at Tenakee Springs!
Hours spent on deck doing nothing but watching the mountains pass by was perfect for recuperation, and our good fortune in being able to have our hosts and their boat all to ourselves crowned the experience. We enthusiastically recommend anyone seeking an Alaska adventure consider getting in touch with Blain and Monique at Sound Sailing.
– Peter and Janell, 2014
---
"The spring 2014 issue of Mainsheet (magazine for Catalina sailboat owners) had an appealing article about sailing adventures in the Alaska wilderness aboard a Catalina 50, BOB.
Carole and I contacted some of the folks who have done trips with BOB's owner and skipper, Blain Anderson and his wife Monique. The reviews were enthusiastic so last month Carole and I flew to Juneau and boarded BOB for ten days of sailing into and around Glacier Bay.
We were not disappointed: the scenery and wildlife were incredible! Every day we saw wildlife in its natural habitat including humpback whales, bears, wolves, sea lions, porpoises, many birds including eagles, etc. We caught fish, shrimp and crabs in our traps to provide delicious meals.
Each night we spent at anchor in a protected cove where Blain and Monique shared their knowledge and delight for the Alaskan wilderness Most days we were able to go ashore on the skiff and explore the shore, forests and glaciers.
(T)he BOB was built in Florida in 1993 by Catalina on a Morgan hull. BOB has been completely refurbished by the factory and carefully maintained so she is in great shape. Compared to a C-28 riding in BOB is spacious, smooth and steady, powered by a Yanmar 110 hp turbodiesel. She cruised at about 9 kts at 2000 rpm. The weather was not always the best but the fully enclosed cockpit was warm and comfortable.
And there was a seemingly endless supply of tasty food and entertainment. Exploring the Northwest in our C-28 is fun but cruising in Alaska in a larger boat with a skipper and cook was a thoroughly enjoyable experience."
– Carl, 2014 Glacier Bay Trip
---
"Some of the things that we liked about the cruise included:
Learning about sailing. We had never been on a sailboat before and Blain and Monique were both very knowledgable and patient with us. I was very impressed with Blain's patience in my seemingly constant game of 20 questions about the boat, navigation, deep sea fishing, crabbing, the weather, sailing, etc. 
Intimacy with the place. We were blessed with very good weather. Although we had both loaded up the iPads with books, we never used them. We were constantly out on deck feeling the world go by. Being a couple of feet off the water, watching the otters, birds, and whales; watching the shoreline slip by; and being up-close and personal with glaciers created a very intimate feeling. 
While we saw other boats and people using the National Park, it felt like we had the park to ourselves most of the time. Anchoring in a back cove every night was peaceful and quiet. I only recall one anchorage where we shared the cove with another boat. It was, however, odd to be awakened very early one morning by a whale surfacing near the boat. 
Blain and Monique are wonderful people. They gave us confidence in sailing. They were also just fun to be around. We laughed a lot on the trip!
The food was always good. Nothing really fancy. Blain and Monique share the cooking responsibilities. Fresh seafood when we caught it. A crab omelet one morning that was perhaps the richest breakfast that I've ever experienced."
– Curt, 2013 Glacier Bay Trip
---

"To say we ate well would be an understatement. Blain and Monique are excellent cooks and provided some amazing fare from their small galley. Throughout the cruise, they provided superb hospitality, guiding us on the land excursions, providing excellent information about the area, its people, wildlife and the natural environment. Our adventure ended all too soon."

– Art and Marna, 2013
---
"Our trip from start to finish was amazing. Monique and Blain created a wonderful itinerary tailored to our group's interests. They highlighted the best that Southeast Alaska has to offer–which is a lot. We went paddling on quiet bays, wilderness hiking through icy muskeg, clam digging amid snowflakes, and walking on remote, rugged beaches.
The scenery of this area is unreal, and sailing on the BOB offers an ideal and unparalleled way to experience it. The mountains jut out of the water in their glowing white glory and the wildlife abounds: otters, seals, sea lions, and whales. The trip finished with our group watching a group of migrating humpback whales swim, blow, and breach from twenty feet away on the deck of the BOB, a truly magical experience.
I cannot think of two better people to be on a sailing expedition with than Monique and Blain. They are caring, warm, generous hosts who are all at once competent, fun, adventurous, and knowledgeable about the ways of the seas and ecology of Alaska. Sailing on the BOB is really a once in a lifetime opportunity not to be missed."
– Hannah, March 2013
---
"I cannot thank you enough for such an incredible experience, an opportunity to explore the rugged wild in absolute comfort and sweet care. You have shown me places so untouched, so wild that I felt the splendor of SE Alaska in such an intimate way. The sailing, the views, the hiking – breathtaking.
This all topped with paddling the quiet bays, isolated hot springs, wildlife (humpback whales, orcas, porpoise, brown bear, oodles of birds) delicious meals (with self-caught halibut, salmon, crab, and spot prawns) and amazing hosts. I cannot wait for my next trip on the BOB – without a doubt it will be worth it."  
– Tracy G., Juneau to Sitka 2012
---
"All back to the lower 48 and safe and sound. Loaded with memories of a lifetime, but safe and sound.We can't thank you enough for your warmth and humor, taking us newbies and turning us into seasoned Alaskan boat people…er..sort of…
It took some of us longer to get our land legs than others but we're all still in a daze of splendor from the sights and experiences you and Blain led us to/through. I talked to Marion by phone this morning and we both raved about Alaska and the BOB experience and the fun and learning we all had. You and Blain were a great team, working hard and keeping the interest and humor flowing for the entire trip.
Will I friend you??? You bet. And we'll never forget the adventure we shared with you.
Please pass along our thanks to Blain as well. He'll make a great new captain of the Bob."
Warmest regards, 
– Tom, 2012
---
"It takes one to know one! As adventure travelers themselves, Blain and Monique "get it." They tailor a unique, unforgettable, experience for each group of guests. Active, not so active, or downright sedentary – it's all possible when Blain and Monique lead the expedition.  S/V Bob is the perfect home base for an Inside Passage adventure… spacious, comfortable, and the food is always good!"
– Repeat client Chuck M., 2012
---
"A wondrous trip We spent 6 days and nights on this boat, and had a trip filled with wonder. We started in Petersburg, AK and ended up in Sitka. We rarely saw other boats, frequently saw whales upclose(right next to the boat), and had fresh self-caught seafood every night. We caught coho salmon, halibut, crab and deepwater shrimp. There was time on land for hiking and freshwater fishing.
The captain is very skilled and knowledgable about wildlife, cooking and fishing. One day we had gone hiking, and returned to the boat for a piece of freshly-picked wild blueberry pie. This (was) not the trip for sunseeking hedonists. While we had clear weather, it can be cold/rainy. But, the sites are outstanding, food great, and a sweet boat."
– Doug 2012