24 Jan

First One To See an Iceberg Wins a Prize

Icebergs are maybe the last thing on your mind in January (unless you're from Australia). But we have it on the record by proven authorities (three teenagers) that they are better than clouds in the numbers of imaginary animals that can be seen in their shapes

Sailboat BOB hosted two very talented filmmaker/documentarians this past summer, and we have to say, their talents are truly wonderful. As they tell us – filming is the easy part. like an iceberg, 80-90% of the work isn't visible. How's
that for a segway?…
We are convinced that Brian McComb is the next big thing. His wit, talents, boundless energy, and sense of adventure is truly inspiring. His self-produced video series on YouTube American Adventure Survival Science is a mouthful, but fun and informative. We were lucky to get to spend time this summer in Endicott Arm and Stevens Passage from Petersburg with him (and his great family) among the icebergs and calving glaciers. Take a look. We're in two episodes so far, and more are to come. Thank you Brian!
We also made the cover of Catalina Yachts Mainsheet Magazine this spring! We are truly lucky to have several magnificent photos and video footage by Ben Hamilton at Pioneer Studios. Capt. Blain was asked to write the feature article as well, and the print issue is in the mail.
---
Ben and Katina filmed the BOB in Glacier Bay National Park last fall and are planning to submit the astounding footage to a variety of projects and clients. We are breathlessly waiting to see the footage of an orca pack hunting sealions underneath the boat.
Yes, this happened – but you get to wait with us…. Thank you Ben and Katina!
We have a few trips still available, and would love it if you'd come sailing with us this summer. Drop a line if these interest you, or send this on to someone you know that needs a great vacation.
---
7-Day Juneau Round Trip, Jun 23 – Jun 29, 2 cabins open
10-Day Sitka to Juneau via Outer Coast, Jul 26 – Aug 4, all 3 cabins open
10-Day Glacier Bay NP, Aug 7 – Aug 16, 2 cabins open
10-Day Glacier Bay NP, Aug 20 – Aug 29, all 3 cabins open
7-Day trips in the fall
---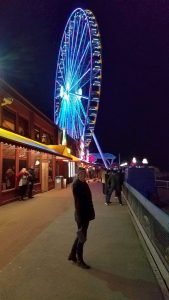 We've found Seattle is a great antidote to cabin fever. We got to spend a little time there
recently for the Seattle Boat Show. Since the Seahawks weren't needing a postseason venue (poor hawks), Centurylink Field was available.
We had a very nice meal with several BOB alumni while in town. It was so good to share memories and banter with some of our 'survivors'.
A visit to Pike's Place Market in Seattle was all we needed to work up an appetite for fresh Alaskan seafood. Considering what a 14-pound troll-caught king is going for, the math certainly makes a trip up to join us a pretty good deal. 😉
---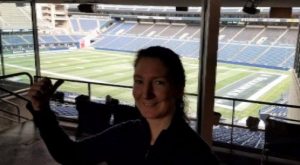 And finally, please permit us to show a few vacation photos proving that the crew still knows how to play in the snow. We were beginning to think we had forgotten how to winter. These were taken in British Columbia on a recent dash to Silver Star Ski Area. Smiles are back. We are winter people.
We're still hauled out in Bellingham and have been enjoying the big city (or so it seems to us islanders) and being on the road system . It's crazy to be able to drive more than 9 miles in a day. The new engine is installed, and the new radar and bottom paint are looking good.
Lots more to do to get the BOB ready, but there will be time for some shakedown trips before the big sail back north in March/April. But enough about us.
We sure hope you can join us this season.