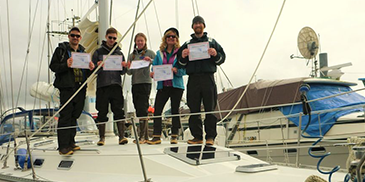 08 May

Team BOB Ready for the Water

Capt. Blain thoroughly enjoyed teaching an armada of new sailors in our Introduction to Sailing Class through our local Sitka Community Schools. We really lucked out with 10-15 knot winds, mostly partly moderately cloudy skies, and a lot of smiles. As you can see, everyone made it back, and everyone got a snazzy certificate. Good times. Thank you and fair winds to everyone who sailed with us.

We have a few slots left for this summer, and we'd love to set sail with you.
June 9-15 Juneau to Petersburg, 7-day, 2 Cabins available
July 7-13 Sitka to Juneau, 7-day, 1 Cabin available
Aug 19-28 Glacier Bay, 10-day Whole boat open.
All are great times of the year for bears, whales, and king salmon.
We have to brag a bit about our annual steelhead salmon trip last month. Monique and Blain both landed some sweet fish, and learned a ton from the fly-fishing professionals Greg and Billy. Greg
guides in Haines
and western Alaska, and Bill is with
Montana Angler Fly Fishing
.
They did tell him the life of a charter sailboat captain WOULD be full of opportunities work on the water…
This might be our last newsletter until Fall as the summer is upon us and our first trip is May 12(!). We are really looking forward to a busy, safe, and fun season. Hopefully you can join us soon.
Send an e-mail
or call (907) 887-9446 if you'd like a last-minute cabin on one of our open trips.